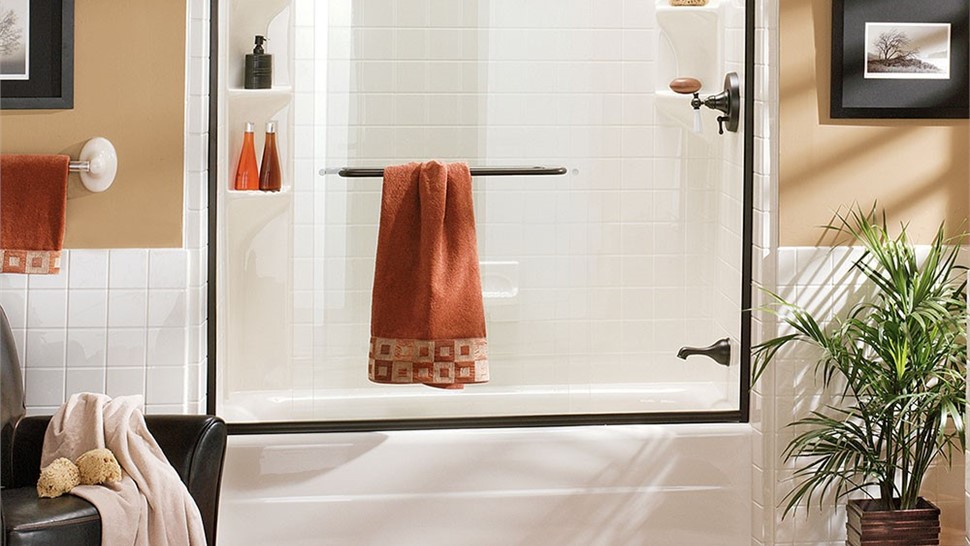 Bathroom Remodeling Chicago, IL
Is an antiquated bathtub keeping you from fully enjoying your daily bath? Are visible mold stains and chipped tile walls interfering with your peaceful relaxation? While some Chicago homeowners would delay much-needed bathroom updates out of concerns for time or cost, you don't have to be one of them! In fact, with the support of Matrix Bath Systems' expert remodelers, you can get the fully featured tub or shower you desire in as little as one day and for far less than you probably imagine.
No matter how new, old, large, or small your current bath may be, we can replace or upgrade it with our range of Chicago bathroom remodeling services:
Replace an Ugly, Worn-Out Tub With Your Own Personalized Design
At Matrix Bath Systems, we don't believe in one-size-fits-all bathroom remodeling for Chicago homes. In fact, every feature we install is not only custom-designed—it's custom-fabricated too! Work with our talented remodeling professionals to choose your replacement tub's color, hardware, and accessories, and then wait just one day while our factory-certified crews provide a perfect fit.
Get the Comfort and Style You Deserve With a Matrix Replacement Shower
A relaxing shower isn't just about shower time itself; it's also about all the effort that goes into styling and maintaining it. And with Matrix Bath Systems, you'll enjoy the best of both categories: a comfortable, convenient shower that requires virtually no maintenance or upkeep! Thanks to the innovative protection of Microban®, your replacement shower will fight mold and mildew without the need for strenuous cleaning.
Chicago's Source for Quick and Affordable Bath Conversions
Have you been stuck for years or even decades with a tub or shower that's not working for you? Rather than suffer through one more bathing experience you hate, turn to us for cost-effective bath conversions that can be finished in as little as a day! Depending on your bathroom layout, you can choose from our two popular services:
Tub-to-Shower Conversions
Shower-to-Tub Conversions
Install a Deep-Soaking Walk-in Tub to Forget About Bath-Time Worry
For Chicago residents living with limited mobility or age-related physical challenges, nothing is more comforting than having a walk-in bathtub in the home. By eliminating the high threshold and slippery floors so common to regular bathtubs, our walk-in tubs allow anyone to bathe with confidence and independence. And, like all of our high-quality features, our walk-in tubs are protected by a limited lifetime warranty—taking the hassle out of bathing for good!
Complete Your Impressive Bathroom Remodel With New Flooring, Tiling, or Lighting
Although we at Matrix Bath Systems specialize in low-maintenance, one-day bath remodeling, we also realize that your tub or shower is just one piece of the overall space. For a more comprehensive Chicago bathroom remodel at a similarly affordable price, consider adding one of our many additional services:
Flooring
Toilets
Vanities
Custom Tile
Lighting
Glass Block Walls
And More!
Get a Free, All-Inclusive Quote for Your Chicago Bathroom Remodeling Now
For a striking new bathroom done in as little as a single day, you can't go wrong with Matrix Bath Systems' team of bathroom remodelers in Chicago, Illinois. Give us a call today to explore our various bath remodeling options and learn more about our flexible financing plans, or complete our fast online form now to sign up for your free, all-inclusive project quote.