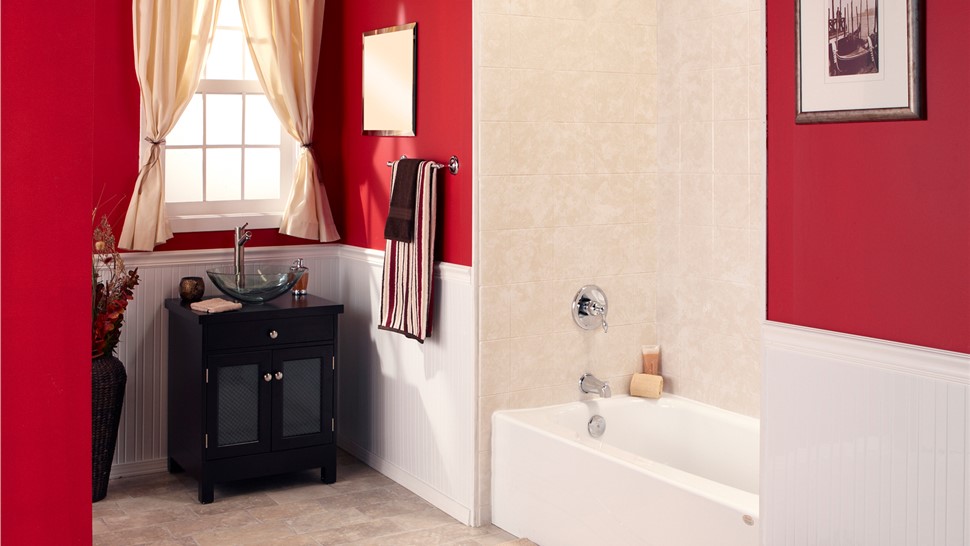 One Day Bathroom Installation
Need to update your bathroom, but stressed about the mess? With Matrix Bath Systems' one day bath remodels, you can avoid the hassle and inconvenience of a long, traditional or do-it-yourself bathroom remodel—while also saving time and money! With our one day baths, our expert installers can update and transform your bathroom in a single day. Our tubs are designed to fit within your existing space, and are made with durable, low-maintenance material, so that keeping your new bathroom looking clean and beautiful becomes virtually effortless.
Cost-Effective One Day Bath Remodel
With a one day bath remodel, Matrix Bath Systems will simplify your remodeling experience from start to finish. Our one day bathtubs are stylishly modern, infusing your bathroom space with a luxurious, high-end look at a fraction of the cost and time of traditional renovation methods. Our secret to a seamless one day bathtub remodel is a custom-fit installation. Our professional crews have the knowledge and experience needed to ensure that every one of our one day baths will fit perfectly within the space they'll occupy. And because we'll be making your tub from scratch, you'll have the freedom to customize all of its features to suit your exact needs.
Every one day bath from Matrix Bath Systems comes with the following benefits:
Microban-infused acrylic, to keep your tub mold, mildew, and grime-free.
Customizable styles, with a huge selection of colors and patterns to choose from.
Durable, multilayer acrylic, to ensure your tub lasts for years of daily use.
Limited lifetime warranty, because we stand confidently behind our products.
Watertight, Lux-Bond adhesive, ensuring a seamless, waterproof installation.
Contact Your Licensed Professional Bathroom Remodelers
What are you waiting for? Skip the hassle of a long, expensive remodel, and discover how your licensed professional bathroom remodelers, Matrix Bath Systems, can efficiently and economically transform your bathroom. Simply give us a call to speak to a helpful staff member, or fill out our online form to request your free, no-obligation estimate today!