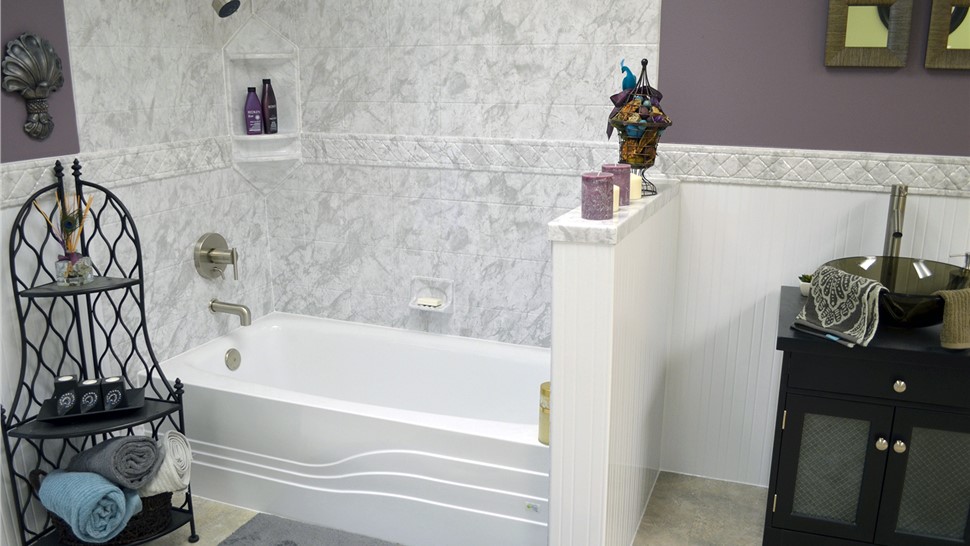 Bath Wall Surrounds
Your bathtub is the largest and most noticeable feature in your bathroom, so if your bath wall surrounds are old, outdated, or unsightly, it's time to upgrade to something beautiful—with Matrix Bath Systems! We offer a wide variety of customizable options to fit any style of home and design preference, along with a convenient and cost-effective process to make your bathroom renovation experience both easy and stress-free.
High-Quality Tub Enclosures
At Matrix Bath Systems, we're dedicated to providing you with the best possible customer experience. From start to finish, we'll keep you fully informed at every step of your bath wall surrounds installation. In fact, we make it a priority to work closely with our customers in the process of completing a tub replacement. We'll help you choose a winning combination of colors, patterns, styles, and accents for your tub surround so that it fits your needs and lifestyle and perfectly matches your home.
All of our tub enclosures are designed to fit seamlessly within your existing space, saving you the time, money, and mess that so often comes with tradition bathroom remodels. Each of our bathtub surrounds is also made with the following benefits for your complete peace of mind and satisfaction:
Microban-infused acrylic, with the power to inhibit mold, mildew, and grime.
Customizable styles, with a huge selection of colors and patterns to choose from.
Durable, multilayer construction, to guarantee decades of strength and beauty.
Limited lifetime warranty, because we have complete confidence in our products— and you can too!
Watertight, Lux-Bond adhesive, ensuring a seamless, waterproof installation.
Grab a Free Quote for your Professional Bath Remodel!
Don't endure your old bath surrounds any longer. Contact the friendly staff at Matrix Bath Systems and see how we can create the perfect new look for your bathroom. As local bathroom remodeling contractors, we are standing by to offer honest advice and help. Give us a call, or fill out our online form to request your free, no-obligation estimate today!