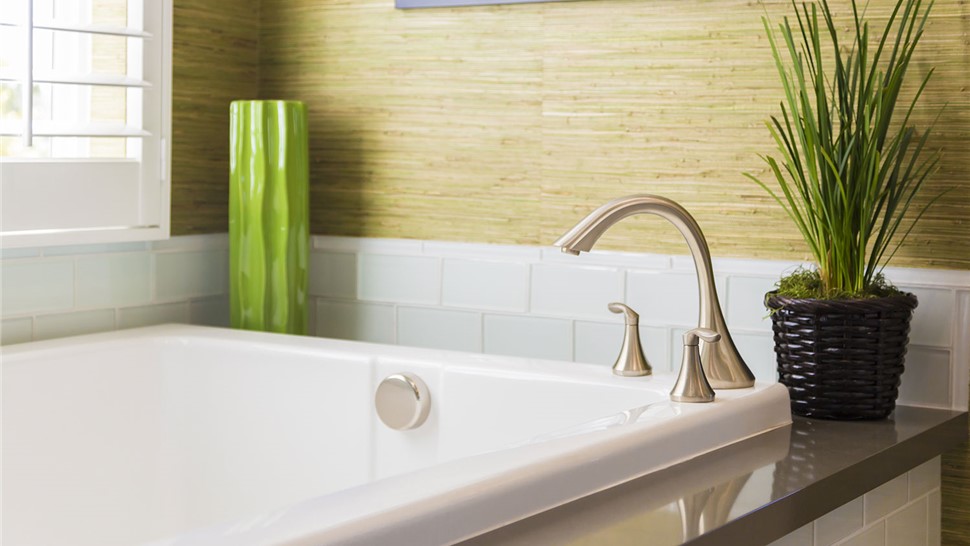 Additional Services
Although bathroom remodeling often begins with the room's most utilized features, there's more than just tubs and showers to a beautiful and functional bathroom design. If you're looking to make the most of your bath remodel—not only in terms of comfort and style but long-term value, too—why stop short of your ideal bathroom? With the help of Matrix Bath Systems, you can enjoy an all-around bathroom upgrade with efficiency and cost-effectiveness from our skilled remodeling crews.
For a complete renovation of your bathroom's wet and dry areas, we offer a wide array of additional bathroom remodel services that include:
Flooring
Toilets
Vanities
Reconfiguration
Lighting
Painting
Complete Your Bathroom Remodel With Beautiful New Flooring
Unlike many other rooms of the house, the flooring in your bathroom has to be able to withstand some serious wear and tear—from daily foot traffic to water leaks and product spills. For flooring that's built to withstand the bathroom environment without compromising on visual appeal, get in touch with Matrix Bath Systems! Whether you prefer a budget-friendly option like vinyl or something more high-end like custom tile, we have a product for you.
Replace an Outdated Toilet With a State-of-the-Art, Stylish Model
If you've already made the investment into a brand-new replacement tub or shower, why not complement it with a modern toilet that's just as comfortable and attractive? By upgrading your dated toilet with a more contemporary design, you'll not only get a more cohesive overall look—you could also reduce your home's water usage for a greener, more earth-friendly home.
Add the Convenient Storage and Elegant Style of a New Vanity
At Matrix Bath Systems, we want every household to enjoy a well-designed bathroom, and our diverse expertise extends far beyond one-day bath conversions and remodels. To make your daily routine easier both in and out of the shower or tub, consider adding a custom-built vanity to your bathroom remodel! Designed to match your unique aesthetic, our vanities add extra storage and a touch of a class.
Need a More Spacious or Accessible Bathroom? Let Us Reconfigure It!
Not every bathroom can be perfected with a replacement shower or tub; some are simply too small, awkward, or poorly designed to be enjoyed as is. If your bathroom layout isn't working for your daily routine, call on Matrix Bath Systems for a complete reconfiguration! From moving an ill-fitting tub to installing wall partitions and elegant glass block walls, we'll work with you make your bathroom more comfortable and enjoyable.
Show Off Your Bathroom Remodeling in Well-Designed Lighting
If you've boosted the style and practicality of your bathroom with our custom shower replacements, wall surrounds, or walk-in tubs, the final step is to prepare your gorgeous bathroom remodel for everyone to see! With an affordable installation of our high-quality lighting, you can add just the right sparkle to any part of the space—from vanity mirror lighting to recessed shower lights and dramatic corner lamps.
Transform Any Aging, Mundane Space With a Fresh Coat of Paint
When you've been living with the same bathroom design for years or even decades, it can be hard to imagine a significant change. But sometimes the biggest changes actually come from the smallest upgrades—like a simple coat of paint in a fresh, contemporary shade. Work with our designers to choose the right color, and then let our expert bathroom painters impress you with their on-time, mess-free work!
Request a Free Bathroom Remodel Consultation and Detailed Estimate Today!
For your floor-to-ceiling bathroom renovation, don't try to coordinate across multiple contractors and remodeling crews—call on Matrix Bath Systems for a simple and streamlined process from bathroom renovation experts. Give us a call today to learn more about our remodeling services and no-money-down financing plans, or fill out our online form now to request your free, all-inclusive cost estimate!