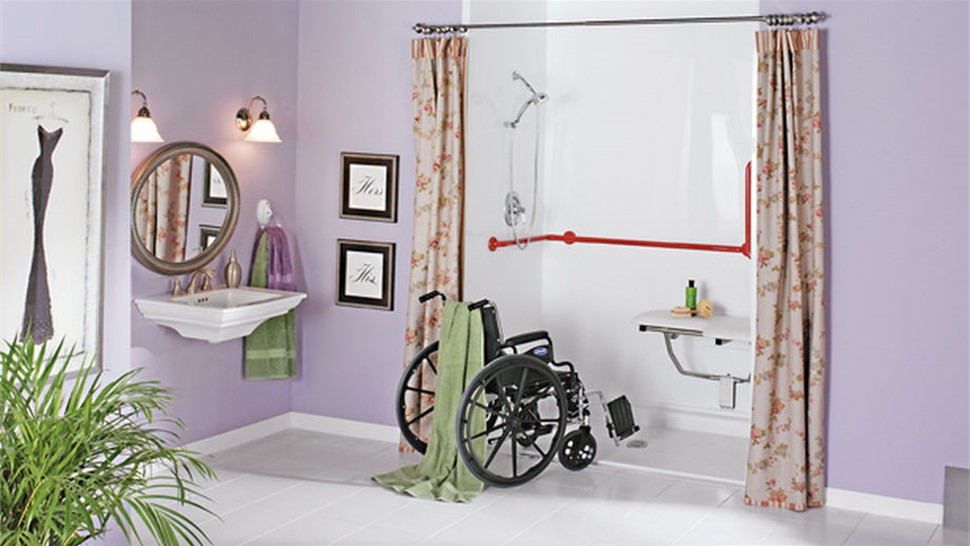 Bathroom Accessibility Products
Your bathroom needs to be more than just a stylish, beautiful space in your home—it also needs to be functional and fully accessible for all members of your family! With the addition of accessibility products, you can regain your bathing independence and reduce the risks of traditional bathroom features—at a price that fits within your budget!
Matrix Bath Systems is an industry-leader for high-quality bathroom accessibility solutions, and we offer a variety of innovative products to make your bath safe for anyone with limited mobility:
Walk-In Tubs
Grab Bars
Barrier-Free Shower Bases
Shower Seats
Comfort and Independence With Walk-In Tubs
A standard bathtub can be a hazardous place with high tub walls and slippery floors, but Matrix Bath Systems has the walk-in tubs you need to get the best in both luxury and safety. As one of our top accessible bathroom products, a walk-in tub can be installed in the footprint of your existing space for fast, one-day installation and guaranteed results that give you the relaxation and independence that you deserve.
ADA-Compliant Grab Bars for Safer Bathing
Do you need a little extra support while showering or bathing in your home? There are times that the smallest details can make the biggest difference in the safety and accessibility of your bathroom, and high-quality grab bars are a prime example. Quickly and affordably, our expert installers will install your new grab bars wherever you need them most, and you can count on us to deliver service that fits within your budget.
Barrier-Free Living With an Accessible Shower Base
Sitting in a bathtub isn't the ideal choice for everyone, but that doesn't mean that you are out of options for accessibility products! Matrix Bath Systems carries a custom line of barrier-free shower bases that are wheelchair-accessible and stylish. With a threshold that is level with the floor and safety add-ons that improve the security of your shower, you can have the convenience you need with the comfort of knowing that you will be safe and protected during your daily bathing routine.
Relax in Your Shower With Durable Seating Options
For many homeowners, showers are their preferred bathing method, but standing in the shower for an extended period of time can be a challenge for seniors or those with limited mobility. Matrix Bath Systems has a solution for giving you the shower you want with the convenience you need with our high-quality shower seating! Durable, customizable, and low-maintenance, our shower seats are the perfect complement to your accessible bathroom.
Learn More About Enhancing Your Home With Accessible Bathing Products
When it comes to licensed bathroom remodelers, Matrix Bath Systems is the highly skilled and experienced company you can trust to deliver accessible bath solutions for any budget. Learn more about our safe and affordable bathroom features today by giving us a call! You can also fill out our online form to get started with a free, no-obligation estimate.